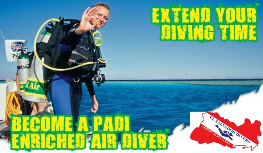 Did you know that you can complete the PADI Enriched Air Diver course without getting in the water?
This course can be done on line where you will receive a PADI manual and all related study materials direct to your e-mail inbox. We can then do a video class on how to analyse the gas mix and complete the required paperwork.
Once we get back diving we will give you two tanks of enriched air completely free, the air not the actual tank, when you book a regular two dive trip with us at the lake in Ilopango, (normal price for Nitrox is $7 per tank)
Cost of the on line course with us, including practical lesson, is $150, (regular PADI RRP $180) Payment can be made via paypal or bank transfer.
Whatsapp +50370690473 for further details.

Course is available to anyone worldwide…
COVID-19
Due to the pandemic
El Salvador Divers
has closed for the duration (17-3-20)
El Salvador entered a national quarantine
on 21-3-20

We hope everyone stays safe, stays indoors and follows their own government's advice on such things as social distancing.
These are strange times!
NOW WASH YOUR HANDS!
scuba diving is a lifestyle
When you begin Scuba Diving you will alter your entire outlook on life.
Scuba diving is not only great fun, highly addictive, good exercise and highly rewarding it is also a great social occasion.
Here at El Salvador Divers we dive year round in the active volcanic lake of Ilopango, a short ride from the capital city of San Salvador. Here you can see the results of volcanic action. Other volcanic activity can be seen where water heated by the volcano rises from the lake bed. Also there are many, many small fish, freshwater sponges, water snails and crabs. We also do some wall dives along the sheer sides of the lake where you can see some large spooky trees underwater. Alongside these natural sights there are some man made ones, 3 statues of the Virgin Mary at 18m/60ft and one recent addition of Christ the Redeemer at 30m/100ft for the advanced divers.
During the dry season, Novenber – March we also dive in the Pacific Ocean at Los Cobanos and San Blas where there are a multitude of reef fish and some interesting wrecks. We dive in the protected marine park at Los Cobanos and only take small groups – maximum 4 divers to one professional guide.
An alternate volcanic lake dive is at Coatapeque.
Discover Scuba Diving
Open Water Diver
Advanced Open Water Diver
Rescue Diver (EFR available)
Enriched Air (Nitrox) Diver
Deep Diver
Altitude Diver
Underwater Navigator
Peak Performance Buoyancy
And many others